Here we are days away from the official start of fall. We are fully recovered from our eight week vacation in Vietnam, Cambodia, and Thailand. After we landed in Raleigh, we were immediately busy with back to school shopping for supplies and clothes and several rounds of school orientations now that each of our kids attend a different school. Throw a teenager's birthday party/sleepover into the mix and it made for a very busy August.
Now that the kids are back in school, the adults of the Root of Good household get to take a breather. Our daily schedule shifts from the summertime routine of waking up, touring temples and palaces, and gorging on street food to the school year routine of waking up, walking one kid to school, then returning home to sip coffee for as long as we want.
Financially, last month was a mixed bag. Our net worth dropped by $34,000 to end the month at $2,078,000. Income was better than average at $3,968 while expenses remained modest at $1,995 for the month of August. Any month where income greatly exceeds expenses is a win as far as I'm concerned. Small fluctuations in the stock market don't mean anything in terms of long term financial success for early retirement.
Let's jump into the details from last month.
Income
Investment income totaled $482 in August, mostly interest from a bond fund and money market accounts. Our equity mutual funds and ETFs pay dividends quarterly at the end of March, June, September, and December with some payments arriving at the beginning of the next month. Here's more on our dividend investments.
Blog income, shown as "other income" in the chart, totaled $2,558 for the month of August. The total blog income is bit higher than average since I deposited some checks that were being held for me at the post office while I was out of town all summer.
My early retirement lifestyle consulting income ("consulting") totaled $320 for the month of August from 2.5 hours of consulting.
The "deposit income" totaled $625. $319 of the deposit income came from cash back and incentive bonuses from the Ebates.com and Mrrebates.com online shopping portals (some of which was earned from you readers signing up through these links).
If you sign up for Ebates through this link and make a qualifying $25 purchase through Ebates, you'll get a $10 gift card.
The other $306 of "deposit" income came from a bank sign up bonus I completed almost a year ago. The initial offer was for $500 when you deposit $50,000. I completed the offer but only received $200 at the time (after arguing with the bank quite a bit). Fast forward 6 months later and they miraculously mailed a check for the remaining amount due plus interest. This sudden change of heart makes me think a banking regulator stepped in to make the bank honor their original offer terms.
If you're interested in tracking your income and expenses like I do, then check out Personal Capital (it's free!). All of our savings and spending accounts (including checking, money market, and five credit cards) are all linked and updated in real time through Personal Capital. We have accounts all over the place, and Personal Capital makes it really easy to check on everything at one time.
Personal Capital is also a solid tool for investment management. Keeping track of our entire investment portfolio takes two clicks. If you haven't signed up for the free Personal Capital service, check it out today (review here).
Tracking spending was one of the critical steps I took that allowed me to retire at 33. And it's now easier than ever with Personal Capital.
Expenses
Now let's take a look at August expenses:
In total, we spent $1,995 during August which is about $1,300 less than our target spending of $3,333 per month (or $40,000 per year). Like many months, "travel" spending was the largest expense category, however groceries and clothing/shoes were major spend categories for August too.
Detailed breakdown of spending:
Travel – $713:
We spent the first 12 days of August in Thailand. Personal Capital says we spent $315 on the Thailand vacation expenses during August. Add to that the cash withdrawn from the ATM in July and our vacation expenses would go up by a few hundred dollars (but those ATM withdrawals are included in the July financial update where we spent $1,818 on travel during the month).
The Thailand vacation expenses include Grab fares (basically Asian Uber), restaurants, groceries, and admission tickets to the aquarium in Bangkok.
We had already paid for all of our lodging through Airbnb ($40 discount when you sign up through that affiliate link). Our flights back home were free using frequent flyer miles plus a small amount of taxes paid last year when we booked the tickets.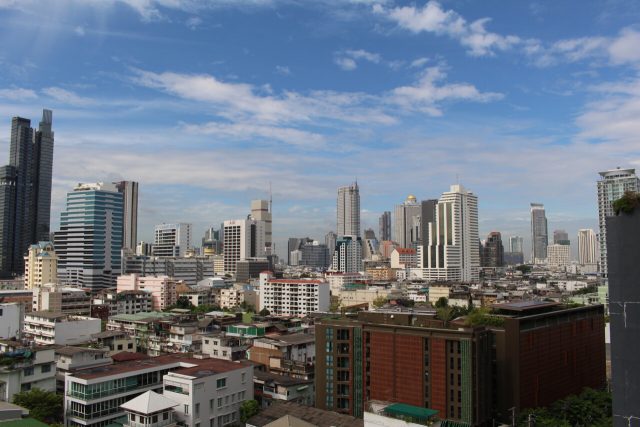 The other major travel expense was $398 for the deposit for two cruise cabins for next summer's big vacation.
Groceries – $712:
The grocery spending was a little higher than an average month. Probably a lot higher considering we were only in town consuming groceries during 19 days of August!
We got back in town and had to restock our fridge and pantry. In one day we spent almost $300 doing that, including over $100 at the Asian grocery store.
Since we buy school supplies at Walmart along with some groceries, the school supplies got lumped into the "groceries" category as well. Although we didn't have to spend very much on school supplies this year because we already had many supplies on hand (and Walmart is incredibly inexpensive).
Clothing/shoes – $207:
Back to school clothes and shoes mostly for the kids. I also picked up a few pair of shorts on end-of-summer clearance.
Gifts – $116:
Gifts for our daughter's birthday. We also bought some Christmas gifts for $21.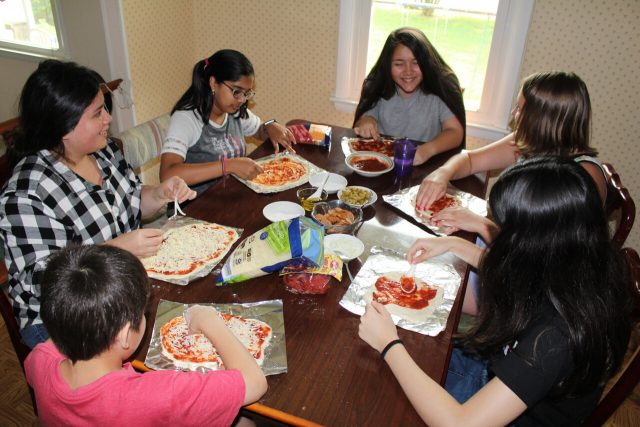 Restaurants – $95:
Four of us plus my parents dined at the local Chinese restaurant for $56. The restaurant raised prices over the summer by a dollar per person. Inflation!
I bought a heavily discounted Domino's Pizza gift card from Raise.com for $39. Here's a referral link for Raise.com if you want to save an extra $5 on discounted gift cards for places you already shop (affiliate link – they may give me $5 if you sign up).
Utilities – $50:
The water bill was $50 for August which is what we pay for water, sewer, and trash even if we don't use any of that during the month. I have investigated shutting off the water over the summer but it costs $50 to reconnect and we might be without water for several days if the utility doesn't show up exactly when we return home.
In previous months I prepaid $600 on the electricity bill to hit the minimum spending requirement on a credit card. I also prepaid our natural gas bill for two months. As a result, August utility charges didn't include electric or natural gas.
If you want to score some free travel from credit cards, there are several cards currently offering 50,000 points or more. These points can be redeemed for $500 cash or $500+ in free flights or hotel stays. Compare travel credit card deals.
Healthcare/Medical – $31:
Our 2019 healthcare premiums are $31 per month thanks to very generous Affordable Care Act subsidies that we receive due to our low ~$40,000 per year Adjusted Gross Income. The benefit of being "poor" on our tax return.
Cable/Satellite – $30:
$30 for two month's internet service ($15/month). We qualify for a local reduced rate package due to having a lower income and having kids. 30 mbit/s download, 4 mbit/s upload.
Home Maintenance – $6:
I had to make a replacement key for one of the kids for $3 at Walmart. The other $3 in home maintenance expense was for a gallon of gas for our lawnmower.
Gas – $0:
We didn't fill the minivan's gas tank at all during August. Most likely we'll need to fill up in September since we are almost down to a quarter of a tank right now. I walk and ride my bike for short errands so we don't drive a ton each week when we are living in Raleigh. One of the benefits of living in the "big" city is proximity to everything.
Total Spending in 2019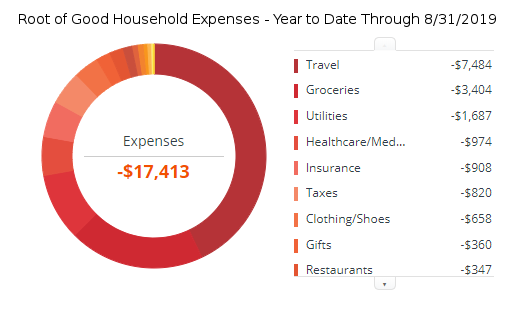 Through the end of August we have spent $17,413 which is approximately $9,000 under the $26,667 budgeted for the first eight months of our $40,000 annual early retirement budget.
Costs have been pretty modest so far this year. In the next few months we will plan our summer 2020 trip and start booking flights and lodging. I already have over $2,000 in Airbnb gift cards so the travel expenses might be next to nothing during 2019 in terms of cash-out-of-pocket.
Looking several years out, we are thinking about big upcoming expenses like:
I know we've only been spending $3,200 per year per kid but those kid costs will increase for several years before they decrease when we get the kids off of our payroll.
Monthly Expense Summary for 2019:
Summary of annual spending from all years of early retirement: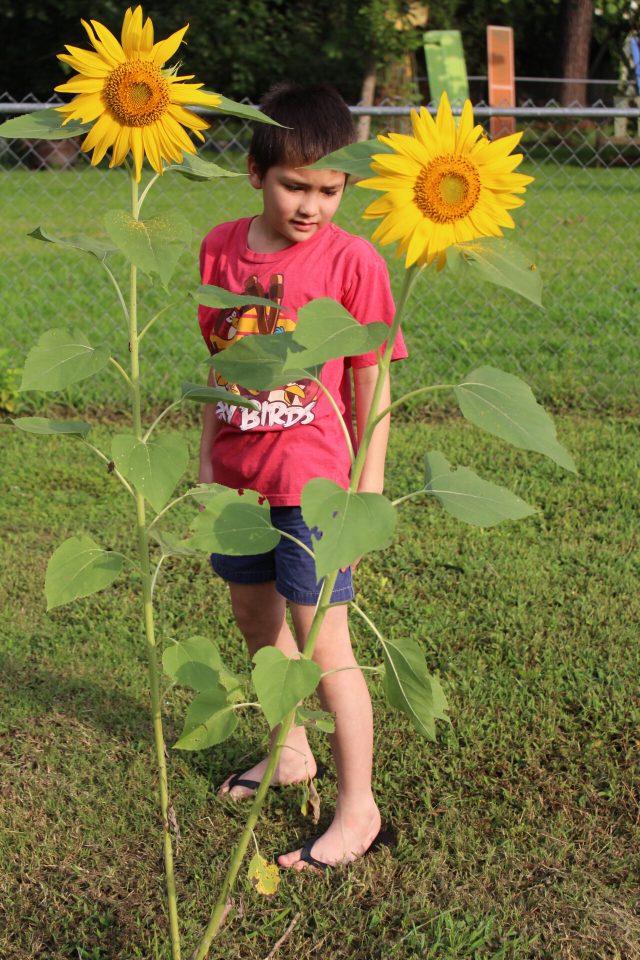 Net Worth: $2,078,000 (-$34,000)
By the middle of August our net worth had dropped by $85,000 before recovering most of those losses during the second half of August. Another bumpy month of stock market fluctuations.
I kept doing nothing to my investments in August (like most months).
However, in early September I sold $30,000 of our bond fund and stuck the proceeds in a money market account. Bonds were at a recent high valuation however yielded about the same as the money market account. With this trade, I reduced the interest rate risk of the fixed income component of our portfolio without giving up much current yield.
So far this gamble has worked out well with bonds dropping about 2% since I sold them. I will move the cash back into bonds if we see bond prices dip a bit more. The bonds are in an IRA so there aren't any taxes due from the sale and the resulting capital gains.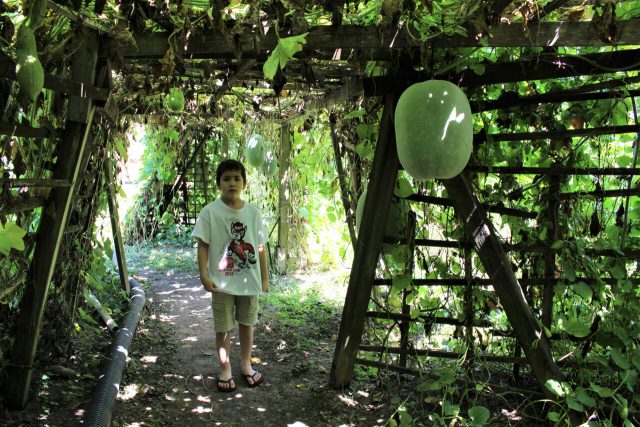 Update on Life In General
Being back at home is great. While traveling is full of adventure and new experiences, the comfort of home is hard to beat.
I'm really looking forward to the cooler fall weather after a hot and sweaty summer spent in Southeast Asia and Raleigh. Cooler weather means more bike rides, hikes, and lounging in my new hammock.
That's it for this month's glimpse into the life and times of the Root of Good family. Stay tuned for some more trip reports from Cambodia and Thailand. Until next time, take care!
Are you glad fall is almost here? Any big year-end plans coming up soon?
Want to get the latest posts from Root of Good? Make sure to subscribe on Facebook, Twitter, or by email (in the box at the top of the page) or RSS feed reader.
---
Root of Good Recommends:
* Affiliate links. If you click on a link and do business with these companies, we may earn a small commission.
---