The Root of Good family just got back to the US after an eight week adventure in Southeast Asia. We spent the month of July split between Cambodia and Thailand.
Now that we're rested up and mostly recovered from the jet lag, I wanted to take a break from life and share our July financials before we get busy with all the back to school activities coming up soon.
Our net worth dropped ever so slightly from $2,114,000 to $2,112,000 (a $2,000 drop). Income remained strong at $2,777 for the month of July, while our expenses remained moderate at $1,961.
Let's jump into the details from last month.
Income
Investment income totaled $1,707 in July. Our equity mutual funds and ETFs pay dividends quarterly at the end of March, June, September, and December with some payments arriving at the beginning of the next month. Here's more on our dividend investments.
Blog income, shown as "other income" in the chart, totaled $1,036 for the month of July which is lower than average. Some checks were sitting at home in the mailbox waiting for me (held at the post office actually). I deposited these in August so next month's blog income will be a bit higher.
My early retirement lifestyle consulting income ("consulting") dropped to zero for the month of July. August and September will be a lot busier with a few sessions already booked and several other people interested.
The "deposit income" totaled $33. This was cash back and incentive bonuses from the Ebates.com and Mrrebates.com online shopping portals (some of which was earned from you readers signing up through these links).
If you sign up for Ebates through this link and make a qualifying $25 purchase through Ebates, you'll get a $10 gift card.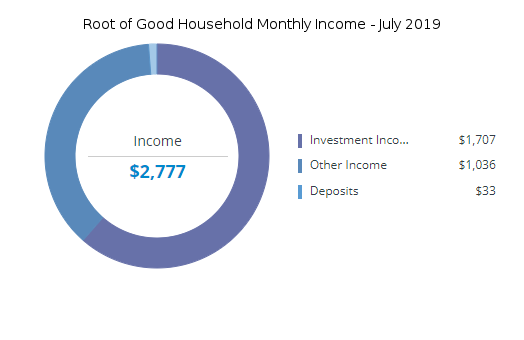 If you're interested in tracking your income and expenses like I do, then check out Personal Capital (it's free!). All of our savings and spending accounts (including checking, money market, and five credit cards) are all linked and updated in real time through Personal Capital. We have accounts all over the place, and Personal Capital makes it really easy to check on everything at one time.
Personal Capital is also a solid tool for investment management. Keeping track of our entire investment portfolio takes two clicks. If you haven't signed up for the free Personal Capital service, check it out today (review here).
Tracking spending was one of the critical steps I took that allowed me to retire at 33. And it's now easier than ever with Personal Capital.
Expenses
Now let's take a look at July expenses:
In total, we spent $1,961 during July which is about $1,300 less than our target spending of $3,333 per month (or $40,000 per year). "Travel" expenses made up almost the entirety of our monthly spending in July, which makes sense given we were vacationing in Thailand and Cambodia the entire month.
Detailed breakdown of spending:
Travel – $1,818:
We spent the first half of July in Phnom Penh and Siem Reap, Cambodia. We spent the next month (from mid-July through mid-August) in Thailand. The $1,818 spent during July covers all of Cambodia spending and about half of our time in Thailand.
We didn't track different spending subcategories within the larger "Travel" bucket of expenses. From taking a quick look at the Personal Capital expense tracking, I pulled together a rough breakout of costs:
$1,000 – ATM withdrawals spent mostly on food, drinks, and entry fees to museums, temples, and palaces
$400 – Angkor Wat admission tickets and a driver for three days
$150 – Grab cars (the Uber of Southeast Asia)
$50 – Bus tickets x5 between Chiang Mai and Chiang Rai
$200 – Everything else, which was mostly groceries and restaurants
We had already paid for all of our lodging through Airbnb ($40 discount when you sign up through that affiliate link). Air transportation was also prepaid (from Cambodia to Chiang Mai, Thailand, and from Chiang Rai to Bangkok).
$1,800 for all of our travel expenses for a month seems pretty reasonable. We ate out or ordered take out for all meals, and took Grabs (basically Ubers) everywhere we went around town. We got more coffees and boba teas than I want to count. Copious amounts of slushies and ice cream may have been consumed by three children of ours. We paid admission fees if the attraction seemed interesting.
We basically spent whatever we wanted without worrying about costs. That's not to say we didn't think about the value of what we were buying. We ate local food which was usually $1-3 per plate and mostly skipped the ethnic cuisines that were $5-10 per plate. We walked a few blocks when ordering a car would have been ridiculous and inconvenient. And we generally bought boba tea and drinks where they were a buck or so instead of $2-4 at the fancy cafes.
Utilities – $75:
The water bill was $75 for July which represents water consumed in June before we left Raleigh for the summer.
In previous months I prepaid $600 on the electricity bill to hit the minimum spending requirement on a credit card. I also prepaid our natural gas bill for two months. As a result, July utility charges didn't include electric or natural gas.
If you want to score some free travel from credit cards, there are several cards currently offering 50,000 points or more. These points can be redeemed for $500 cash or $500+ in free flights or hotel stays. Compare travel credit card deals.
Healthcare/Medical – $44:
Our 2019 healthcare premiums are $31 per month thanks to very generous Affordable Care Act subsidies that we receive due to our low ~$40,000 per year Adjusted Gross Income. The benefit of being "poor" on our tax return.
The remaining health/medical expense came from a $13 bill for copayments on lab tests from my last doctor's visit in May.
Cable/Satellite – $15:
$15 for one month's internet service. We qualify for a local reduced rate package due to having a lower income and having kids. 30 mbit/s download, 4 mbit/s upload.
Telephone – $11:
I've kept an old basic cell phone active for a decade just to have international calling if we get in a pinch while traveling. I reactivated it for another year for $11 (a grandfathered T-Mobile prepaid plan).
Now that I have Google Fi for cheap international cell and data service, I don't think I need a back up phone any longer. We used Google Fi all over Southeast Asia and it worked perfectly. I also bought a SIM chip for $1.50 just to get a local phone number to activate local apps but never used any data on that SIM.
Total Spending in 2019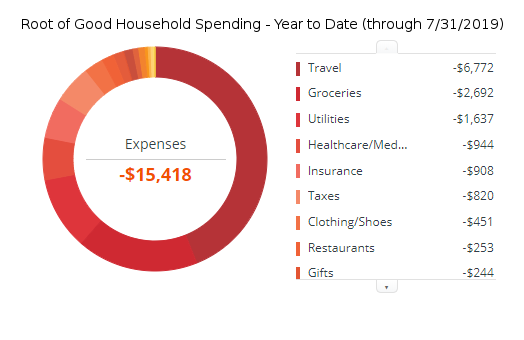 Through the end of July we have spent $15,418 which is approximately $8,000 under the $23,333 budgeted for seven months of our $40,000 annual early retirement budget.
We are back home in Raleigh now, so our baseline monthly costs will be a bit lower than they were during the summer when we were traveling full time. At least until we start booking travel for our big summer 2020 trip! Tentative plans are to visit South America, probably Argentina and Chile.
As for other big spending in 2019, we don't have too much on the radar. After a long summer on the road, I'm looking forward to doing very little at home and relaxing for a while. Fortunately that costs almost nothing.
Monthly Expense Summary for 2019:
Summary of annual spending from all years of early retirement:
Net Worth: $2,112,000 (-$2,000)
July itself was a rather boring month in terms of net worth fluctuations. The stock market went up some during the month but went back down by the end of the month. Our net worth dropped by $2,000 during July to end the month at $2,112,000.
The first couple of weeks of August have been "interesting". Lots of wild fluctuations in value but our net worth isn't doing too bad right now.
Update on Life In General
We had a blast during our eight weeks in Southeast Asia. Another "trip of a lifetime" that we seem to take every year to a different location around the world.
A quick trip recap:
food was good but similar to what we have at home since we cook a lot of Thai/Southeast Asian cuisine
weather wasn't too bad – it felt like the summertime heat and humidity in Raleigh
very few mosquitoes
Thailand is noticeably more "first world" than Cambodia and Vietnam, yet didn't come with a large price premium
After a busy summer on the road, we are enjoying being back home in Raleigh. The first few days back were filled with recovering from jet lag and reuniting with friends and family.
We have one week before school starts for the kids, so the next week will be filled with back to school activities. Our oldest child starts high school!
With one kid each in elementary, middle, and high school, that means three sets of back to school orientation, three sets of correspondence, and three sets of school-specific rules and expectations, along with helping our daughter adjust to life in high school. Life is about to get a lot busier!
As fall approaches, I'm looking forward to some cooler weather so we can enjoy our new hammocks while the kids are in school. I'm also looking forward to riding my bike on the city's trails since I wasn't able to ride a bike all summer while on vacation. It's time for more fun and more leisure!
Well that's our July in review. Thanks for tuning in!
How has your summer been so far? Looking forward to what fall has in stock for you?
Want to get the latest posts from Root of Good? Make sure to subscribe on Facebook, Twitter, or by email (in the box at the top of the page) or RSS feed reader.
---
Root of Good Recommends:
* Affiliate links. If you click on a link and do business with these companies, we may earn a small commission.
---